Diane's Interior Creations
Murfreesboro, TN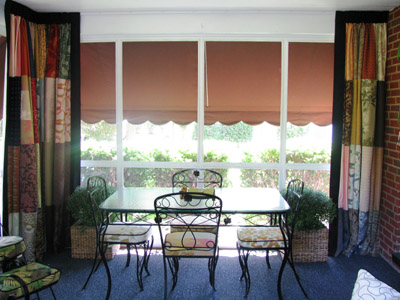 Straight Stitches
Richmond, VA
Mar C's Interiors
North Myrtle Beach, SC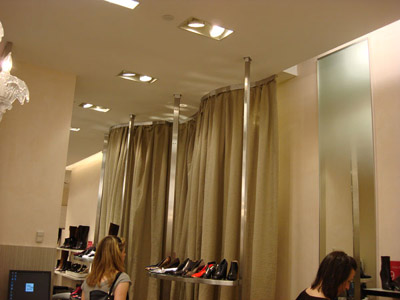 Saks Fifth Avenue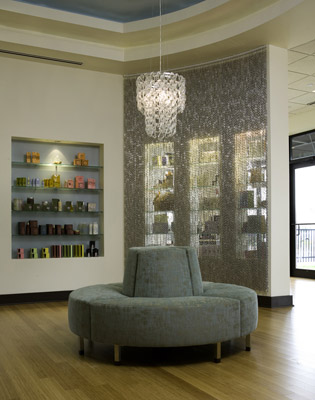 Beauty Parlor

Flexible and Bendable Drapery Track
Konnect International's Flexible and Bendable F-track system revolutionizes the curtain, drapery and interior design industries with extremely flexible tracks and rods and easy on-site application!

The F-Track system is a highly versatile, flexible curtain track system; it can be ordered in roll and cut into any length to custom fit in any shape of wall/ceiling curvature on the spot. It gives an excellent solution and is a great choice for drapery or curtain use in hotel, restaurant, hospital, boat and numerous commercial & residential applications (bay windows, high rise curve curtain wall system, and hospital bed or room dividers) according to unique architectural layout.
· Easy installation: No special tools are required to bend the tracks or install the packaged hardware, just screw the clip, snap-on and lock the tracks in place.

· Customizable: One Piece continue track can be ordered up to 150 ft in roll, custom cut and bend to fit on the site, eliminating factory fabrication troubles and never have to worry whether the length of tracks that ordered will fit.

· High Flexibility: It can be hand bended in any shape or angle to custom fit the layout and shape of curvature either wall mounted or ceiling mount.

· Slip and Smooth: Easy to move in comfortable hand operation, excellent load bearing capacity, especially suitable for long and heavy curtain.

· Noiseless: Elaborate design of each friction part to ensure a soft, gentle and quite moving of curtains without causing any uncomfortable noises.

· Solid and durable: Exceptional patterned structural design and quality control, this composite tracks and hardware will not rust or distorted under normal application.

· Easy to Store & handle: Because it is totally flexible, it can be stored or transported in rolls; save spaces and eliminate undesirable handling or shipping damage.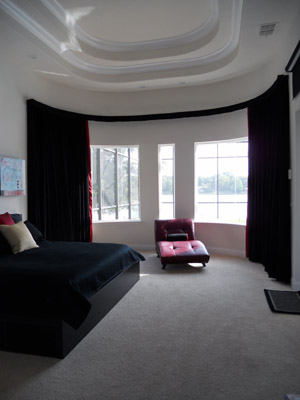 The Drapery Company
Lutz, Florida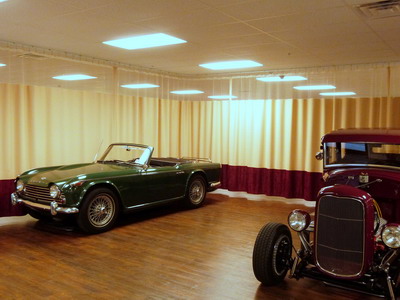 Flex Track at Historic Motor Sports in Candia, NH
Fabricated by: Expressions in Fabric, Wakefield, MA